Student Affairs Seeks Members for Student Advisory Board

Do you have ideas for improving campus life and the student experience?  Consider applying for the Student Affairs Advisory Board!

This group serves as a volunteer board to Senior Vice President and Dean of Student Affairs Rebecca Reed Kantrowitz and the broader Division of Student Affairs.  The group is asked to provide insight on issues related to student life and to offer suggestions related to services, communications, and programs.

To apply, submit a cover letter and resume to studentaffairs@syr.edu by Sunday, October 2.
Syracuse University Launches Diversity and Inclusion Website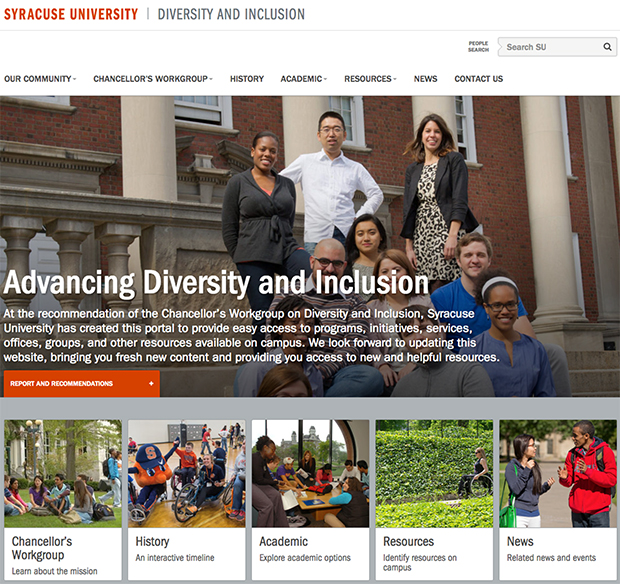 Syracuse University has launched a new website that details and provides easy access to the University's programs and efforts in the area of diversity.

The Advancing Diversity and Inclusion portal, which can be found at diversity.syr.edu, is one of 18 short-term recommendations made by the Chancellor's Workgroup on Diversity and Inclusion. The living, breathing and constantly evolving website will be updated regularly to ensure the timeliest, most relevant content is being provided to the campus community.
Syracuse University Latino/Hispanic Heritage Month Celebration
Join us for the annual Latino/Hispanic Heritage Month celebration, a month-long celebration filled with events, speakers, performances, and more.

The Office of Multicultural Affairs (OMA) will host Latino/Hispanic Heritage Month from Sept. 15 to Oct. 15. The 11th annual program provides the campus and local community with a great opportunity to reflect on, learn more about and experience the richness of Latino American cultures in our society.

The month begins with an opening ceremony on Sept. 15, which includes a parade on the University Place Promenade at 11:15 a.m. and remarks and reception at 11:30 a.m. in the Schine Student Center Atrium.  The month's commemorative speaker is Sarina Morales '08, an avid contributor to ESPN across all platforms and an anchor for Sportscenter:A.M.