Services Planned
To mark the 25th anniversary, of Pan Am 103, five services are planned in the United States and the United Kingdom on Saturday, Dec. 21 (please note that all times listed are local times). Syracuse University will be represented by staff members, students and/or alumni at each location.
On the SU campus, a service of hope and remembrance will begin at 2:03 p.m. in Hendricks Chapel, followed by a procession to the Wall of Remembrance. All are welcome to attend.
Other services include:
Arlington National Cemetery in Arlington Va., at the Pan Am 103 Memorial Cairn at 1:30 p.m.
New York City at SU's Lubin House (11 East 61st St., in Manhattan) at 2:03 p.m. Those wishing to attend this service are asked to RSVP to Scott Austin at scott.austin.sca@gmail.com.
Westminster Abbey, London, England at 6:45 p.m.
Lockerbie, Scotland at Dryfesdale Cemetery at 2 p.m. and at Dryfesdale Church at 6:30 p.m.
Many of the Lockerbie Scholars have joined local officials and clergy in planning and carrying out the services in Lockerbie. The Scholars are hosting a gathering on Friday, Dec. 20, at 7 p.m. in the Lockerbie Academy Assembly Hall. For more information, contact Jessica Liddon at jess0593@hotmail.co.uk.
Hendricks Chapel Dean Tiffany Steinwert and Lockerbie's Rev. Sandy Stoddart have composed a Common Prayer, an ecumenical statement distributed widely – especially via social media – and intended to be read on Dec. 21, 2013 at 2:03 p.m. (Eastern time, 7:03 p.m. Greenwich time). The prayer appears below.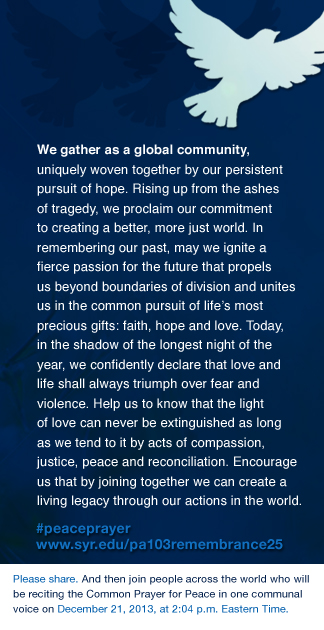 Newhouse, Alexia Foundation to Hold Pan Am 103 Commemorative Event
The Newhouse School, in partnership with the Alexia Foundation, will host a presentation and panel discussion on the power of photography to effect social change on Thursday, Nov. 14, at 3:30 p.m. in the Joyce Hergenhan Auditorium in Newhouse 3. Read more
Sen. George J. Mitchell spoke about the state of peace in the world during Tuesday's University Lecture, part of the University's commemoration of the 25th anniversary of Pan Am 103. Mitchell engaged in dialogue with Maxwell Dean James Steinberg.
Lockerbie Reflections
When people first hear of Lockerbie, Scotland, they learn about the tragedy that is Pan Am Flight 103. When people first envision Lockerbie, Scotland, they picture the devastation of a plane crash. When people first visit Lockerbie, Scotland, however—they experience a quiet, humble and welcoming town—a town that was simply in the wrong place at the wrong time. Read more
Common Prayer for Peace Appeals to Global Community
A message of hope has begun its journey across the globe. How many eyes see it and how many mouths speak it likely will never be known. But its purpose is clear: to instill a sense of resolve from sorrowful acts of the past to help ensure they never occur again. Read more
Guarding angels: Judy O'Rourke receives honor for work with Remembrance, Lockerbie scholars
O'Rourke, director of the Office of Undergraduate Studies in Academic Affairs, will receive an Order of the British Empire at a ceremony later this year. Read more
A Delicate Web of Remembrance
School of Architecture students and faculty have conceived and constructed a delicate web of dozens of lines of string blended into a structured, yet fragile, design honoring those lost 25 years ago in the bombing of Pan Am 103. Read more